Hey friends,
I want to share with you the Feeling it Now Worksheet. Keep in mind that if you subscribe to my mailing list, you will have access to these freebies before anyone else. You can subscribe to my mailing list here:
The Purpose of This Worksheet
This worksheet allows you to get from where you are now in your current circumstances to where you want to be when you achieve your desire. You can accomplish this by getting your current feelings aligned with the feelings you will have when you attain your desire.
Neville Goddard talked extensively about "acting as if." With this worksheet, you will get clear about what you want so that you can "act as if" you already have your desire. The focus of this activity is not to focus on the thing you desire but instead focus on the feeling that you want this thing to bring.
For instance, if you wanted a new car and you acquired it, you wouldn't be desperately craving it if you owned it. Instead, you would be ecstatic, and you would take pride in owning it.
To attract, you must get your current feelings in alignment with the thing you want. So, start acting as if you already have your desire by displaying the feelings you will have once you receive the item.
This worksheet was designed to help you get in alignment with your future emotions now so that you can effortlessly attract the thing you earnestly want.
To view the entire worksheet, click the image below.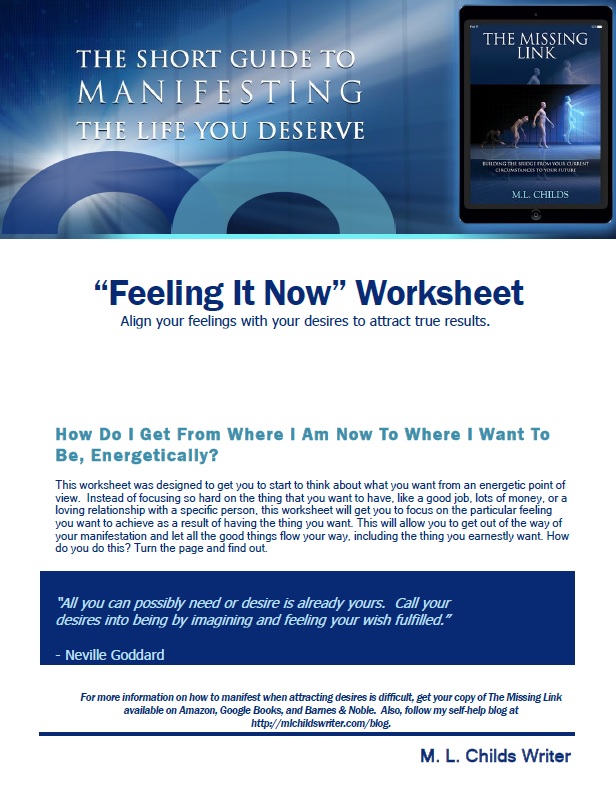 If you want to know more techniques, make sure that you follow my blog, Infinite Consciousness Ascension, and also get a copy of my book, The Missing Link – Building the Bridge From Your Current Circumstances to Your Future. From now until April 19, 2021, you can also enter to win a free copy of this book on Goodreads.