Just about everything is stressing us out on a macro-level: jobs, the pandemic, and worldly affairs. But each of us is also facing our own struggles on a micro-level: job loss, lack of money, lack of opportunity, divorce, etc. With all of this stress comes a lack of sleeping, anxiety, and more. Just how do you cope with all of these things in a calm manner?
I've found that breathing and meditation do help me to ground myself. Occasionally, I even attend reiki sessions to get my energy under control. But sometimes, you need an herbal supplement to help calm you down.
I've recently teamed up with affiliate partner, Andrea Seed Oils, who provides pressed oils for a variety of purposes. One that caught my eye is Kava. This herb may be helpful in reducing anxiety and may aid with sleeping.
Are you ready to relax the stress away? To learn more about this product and other products offered by Andrea Seed Oils, click the image below.
Disclaimer: I use and recommend the affiliate products that I promote but I must disclose that I do have a monetary arrangement with these affiliates and I make money from promoting affiliate products.
This blog article is the opinion of the author. It is not meant to take the place of professional advice.
*The link below will take you to another site outside of http://mlchildswriter.com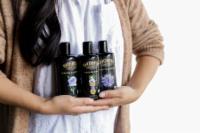 Marketing image courtesy of Andrea Seed Oils.
Image of a stressed-out man courtesy of 101374594 © Ocusfocus | Dreamstime.com