Are you applying the Law of Attraction but failing to get the results you want?
I address this issue in my book entitled, "The Missing Link – Building the Bridge From Your Current Circumstances To Your Future." There may be a lot of energy blocks that are preventing you from getting what you want and my book goes over some of the common metaphysical reasons why you aren't achieving your goals.
Another reason may simply be because you just aren't being clear about what you earnestly desire. Neville Goddard, a manifestation expert, emphasized that if you get clear about the feeling that you want to experience as a result of having what you want, this will put you in alignment with your desire. It could also get you there faster because when you align with the feeling, you eliminate the resistance that your mind creates. Feeling is stronger than mind power so if you focus on feeling the feeling, you will attract what you desire.
I have created a worksheet to help you get seriously clear about what it is that you desire. Once you can figure out what you want to feel, you can attract what you want and more. I refer to this worksheet as the "Feeling It Now" worksheet.
If you are ready to get to the heart of what you truly want and start to manifest it, request your copy of the worksheet by entering your email below.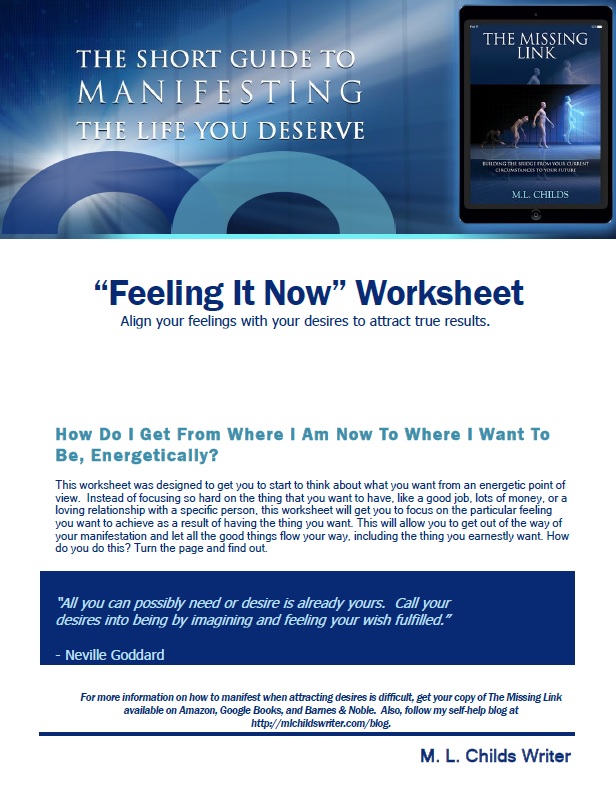 Processing…
Success! You're on the list.
Whoops! There was an error and we couldn't process your subscription. Please reload the page and try again.
Disclaimer: This blog article is the opinion of the author. It is not meant to take the place of professional advice.